Decorate To Celebrate!
This blog is a challenge blog dedicated to showing
off your decorations for every celebration!!
Join them f
or a new challenge every other week!!
This blog is so full of great inspiration to get your any celebration creative juices flowing! Don't forget to go to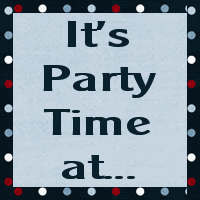 I can't wait to see what the first challenge is in their two week Challenge starting June 1st. They want an assortment of entries ranging from centerpieces to an invitation using ANY method, paint it, cut it, mold it... use your Cricut, Sizzix, any other die cutting machine (or none!)... use paper, fabric, wood, glass, tile, florals... the options are endless -- Show them your creativity!!
They will have prizes offered for challenges, they also hope to spotlight their talented participants with Guest Designer spots for EVERY challenge!! If you win a challenge, you will be invited as a Guest Designer for a following challenge -- allowing them to feature YOU... YOUR BLOG... and, best of all, YOUR CREATIVITY!!
Decorate To Celebrate has a giveaway NOW, so head on over there to get all the details!! Have fun and I look forward to seeing what everyone comes up with!!!

If you go please be sure to say Paper and Pajamas/Annette Marlow sent ya ;0)